Archive for November, 2007
---
Written on November 30, 2007 at 11:18 am, by Lain Shakespeare
The Center for Civil and Human Rights Partnership from right here in Atlanta has launched their blog, complete with a podcast or two.
It looks great, and I can only imagine how awesome it will be in the years to come.
The CCHRP blog is a welcome, glaring contrast to many of the folks who already have museums and ask, "Should I have a blog? Do I need to update my website? What if I don't know how?"
Since I'm twenty-four, the answers are painfully obvious: yes, yes, and yes. But for many of the old codgers who run museums or historic sites, the answer may be that it's too costly or there isn't the staff to maintain it.
…which is absolutely ridiculous.
There's way too much competition, not just from other attractions, but also from other types of diversions not to have a blog that gives the public a behind the scenes view of a museum. It's not a matter of marketing, it's part of the museum. Consider it an extra wing.
And if your blog is poorly written or designed, then why wouldn't I assume the rest of the museum is the same way?
The Center for Civil and Human Rights doesn't even have a museum yet, but they already have a fantastic website and blog. By making their story and discoveries public (as well as accessible, informative, and entertaining) along the way, they'll have a whole mess of supporters and interested parties around the world before the museum even opens.
On their blog, you can listen to this podcast: a speech by CCHRP executive director Doug Shipman at the Korean American Coalition Convention. This guy knows what he's talking about, on the internet and off.
---
Written on November 28, 2007 at 11:11 am, by Lain Shakespeare
Last week the good folks at the Georgia Podcast Network ambled on into the Wren's Nest for a brief tour and a chat about blogging, podcasting, and being cool at a historical site in the 21st century.
Tune in here to hear me sound nervous on their show, Mostly ITP.
If you're new to this site, this episode is a great intro to what the Wren's Nest is, where we've been, and where we're going. If you just enjoy hearing me squirm, this is also for you.
(Not actually taken at the Mostly ITP Podcast, but instead the Duck and Herring Podcast. You can tell by the fu manchu. More on them later this week.)
Props to GriftDrift, who alerted me to the podcast before I knew it was online.
Related, we were inspired by the Georgia Podcast Network's audio interface, and put a couple complete audio stories online. Scroll on down to the bottom on the Stories page and listen to Miss Woodie tell my favorite story–Brer Rabbit Takes a Ride.
The stories are perfect for:
(a) teaching a classroom of first graders about trickster tales;
(b) taking a ten minute break from actual teaching;
(c) taking a ten minute break from just about anything;
(d) hearing the phrase "bodacious fib" in context.
---
Written on November 27, 2007 at 7:21 am, by Lain Shakespeare
As previously mentioned, the Wren's Nest was included in Atlanta Magazine's Best of Atlanta 2007. We're in the part that says "Family" in big Waffle House letters.
Here's the picture of Curtis that floored me when I saw it–
(photo by Michael Cogliantry)
I had to crop it to fit it here, and even if I hadn't the space wouldn't do the photograph much justice. If anything, it's one more reason to pick up an Atlanta Magazine and participate in our t-shirt contest extravaganza.
Anyway, look at that kid illuminated just to the left of Curtis. The kid who looks like he's never been happier. This has quickly becoome one of my favorite pictures, mostly because of that kid's laughter.
When I opened up the magazine and saw this picture, I immediately thought of three things–
1. With laughter like that, who needs a marketing budget?
Most folks with degrees in (or blogs about) things like marketing and P.R. will insist that marketing is merely "telling your story" to connect with your audience. I couldn't agree more.
Luckily, we happen to be in the business of storytelling. That said, when people ask me how we manage to get press like we have, and I don't have an answer. We don't even really know how to write a press release.
The trick for us has been (and will continue to be), focusing on making our story a great one, and then letting others–like Atlanta Magazine or the Washington Post or the New York Times–do the rest.
If what you're doing is remarkable, there's no shortage of people willing to talk about you. Since Joel Chandler Harris put in the work a long time ago, the current staff of the Wren's Nest has no problem coasting on his name.
2. One of my favorite scenes in television history.
Freaks and Geeks was an amazing show with a very short life–just one season. Probably for good reason, too: it was filled with insightful and poignant moments like this one: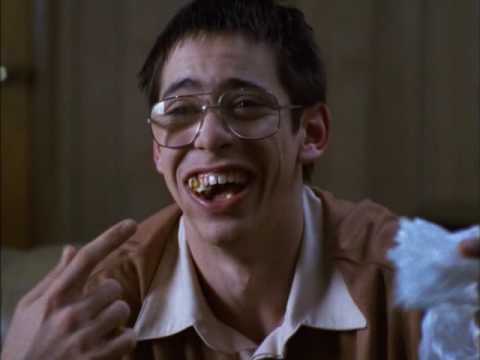 It's not exactly telling stories on a plantation, but maybe you can draw a parallel.
3. The words enscribed on Joel Chandler Harris' grave.
"I seem to see before me the smiling faces of thousands of children some young and fresh and some wearing the friendly marks of age. But all children at heart and not an unfriendly face among them. And while I'm trying hard to speak the right word, I seem to hear a voice lifted above the rest saying you have made some of us happy. And so I feel my heart fluttering and my lips trembling, and I have to bow silently and turn away and hurry back into the obscurity that fits me best."
---
Written on November 24, 2007 at 12:26 pm, by Lain Shakespeare
This executive director just got a new computer, which means the office will be playing musical computers all day today, as I remove the ones from 1999 and replace them with ones from 2003.
In the mean time, here are a few things to check out–
If you live 'round these here parts, run to your nearest magazine shoppe and pick up a copy. It's their "Best of Atlanta" edition, which is always good, but even better this year because of a handsome new design.

Oh, and because we're in it. Twice.*
The first person who (a) buys a copy, (b) opens it, and (c) finds the two, count 'em, two references to the Wren's Nest inside gets a free Brer Terrapin t-shirt. Not as easy as it looks, folks.
…is hosting the latest edition of the Georgia Blog Carnival.
It's a great resource for finding what's going on around Georgia.

It will also be good for you to find out what other blogs look like, since we all know you spend all of your e-time on the Wren's Nest website or playing Free Rice.
*As soon as I get our old scanner hooked up and working with our new computer, I'll upload the absolutely phenomenal, page-sized photo of Curtis in the backyard.
---
Written on November 21, 2007 at 9:15 am, by Lain Shakespeare
The Official Mother Of The Wren's Nest is famous:
Thanks, Atlanta Parent. How fitting, mom…though technically, you're a Decatur Parent.
Happy Thanksgiving, folks!
---
Written on November 20, 2007 at 12:26 pm, by Lain Shakespeare
The staff of the Wren's Nest took in No Country for Old Men last weekend at one of our two favorite theaters: Midtown Arts Cinema (you can read about our other favorite here).
The filmmakers–the Coen brothers–are phenomenal storytellers. The single most important part of their movies is the dialogue (well, that and lighting, but no matter!).
Each of the movies you've seen by them employ hilariously intricate dialect. They're almost love letters to the words of the people: respectfully precise, provincially astute, and knowingly clever. There's a fine line between funny and making fun, and the Coen brothers toe it expertly.
In the truest sense of the word, it's folklore brought on screen.
Without the dialect that scene goes from brilliant to dull real quick. Fargo wouldn't be the same, and Frances McDormand probably wouldn't have won an Academy Award.
No Country For Old Men is no exception to the rule.
The punchy dialect drives the film and gives the vast landscapes texture. Also texure-giving is Javier Bardem's haircut, which lies somewhere in the terrifying chasm between Dorothy Hamill and Prince Valiant.
Throughout the movie,you aren't always sure if what Tommy Lee Jones just said made any sense, but it doesn't matter–you're in Texas in 1980, and of course that's what he would've said. His language rings true to his character, his land, and his story.
A century prior, Joel Chandler Harris grew up listening to the slaves around him and learned their dialect as they told him stories. As someone with a stutter and a stammer, I imagine the respect he had for the smooth-talking storytellers on the plantation was immense.
Either way, he–like the Coen Brothers–understood that the heart of a good story was the way it was told. Thus, the Uncle Remus Tales use dialect through and through.
Some say dialect is offensive and others say it's preservation. I say it's moot–it's good storytelling, and we wouldn't have this blog without it.
As usual Flannery O'Connor says it best: "The sound of our talk is too definite to be discarded with impunity, and if the writer tries to get rid of it, he is liable to destroy the better part of his creative power."
---
Written on November 19, 2007 at 2:39 pm, by Lain Shakespeare
You'll find the staff of the Wren's Nest hanging out with Brock Clarke, author of (in my mind) a great book: An Arsonist's Guide to Writers' Homes in New England.
Check out co-sponsor Baby Got Books' review right here, our fancy poster and more information here, and then join us at Wordsmiths, tonight at 6:30! Oh, and bring some dough to buy the book. We'll pay you back in hummus.
---
Written on November 19, 2007 at 2:15 pm, by Lain Shakespeare
The National Association of Black Storytellers were here in Atlanta this past week, and the Wren's Nest was hopping on Saturday. The West End neighborhood was the hub for the youth storytelling festivities, and the Wren's Nest, along with the Shrine of the Black Madonna, were two of the hosts.
We didn't really know what we were getting into.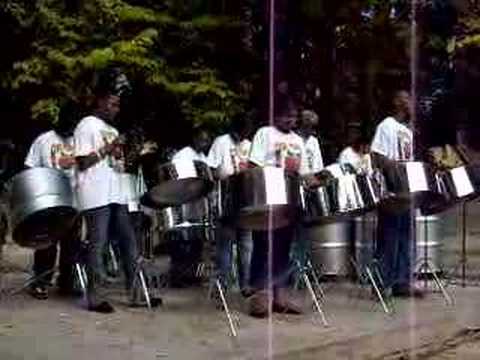 (To take advantage of the ambiance on Saturday, listen to the music on the video as you scroll through the rest of this post.)
I got here around ten this morning expecting perhaps a little bit of a crowd, but nothing out of the ordinary. That was, of course, before the Pan People Steelband showed up. Surprise!
We had storytelling at 11 am, then we moved everything outside for a medley of kids storytelling, adult storytelling, arts, crafts, and–of course–the steel band.
Below are some choice pictures from the day.
It felt like I was back home in Trinidad!
The Official Wren's Nest Stance On Electric Thumb Pianos: Yes!
I swear Matt is taller than this. Also, the Pan People Steelband played traditional favorites like Justin Timberlake's "My Love" and Akon's "Don't Matter."
As promised, we had plenty of youth storytelling. I think this one was about Br'er Rabbit marrying a princess.
Audience participation is important, especially if you're under three feet tall.
Then it was time for the big kids–Donald, one of our Ramblers, told The Wonderful Tar Baby Story.
Even the steelband got into it.
Amelia had the kids do our bidding create traditional Victorian crafts that, coincidentally, can be used to decorate Victorian Christmas parties.
I think most folks had a good time. Especially that little guy in the sunglasses.
---
Written on November 16, 2007 at 4:39 pm, by Amelia
Above is a quote from Woody Allen, a guy we like here at the Wren's Nest.
Not because we know him or anything, but because he's a funny guy and we like the funny. Plus, for word nerds like ourselves, he's a pretty great guy to quote.
Lain, for example, spent a most of a fancypants luncheon on Tuesday using Woody's work to explain his own. You see, Lain is an awfully bashful and modest fella when it comes to the work he's done at the Wren's Nest. So when people commend him, his standard line is one of Woody's: "Eighty percent of success is showing up". Good work, right?
Well, it was.
On Tuesday afternoon a woman nonchalantly came in, handed us a check for $37,000, and told us she needed to continue with her errands. It is important to note that this occurred while Lain was at the aforementioned luncheon.
(Lain's face when he found out, approximately 2 hours after every single other person we knew.)
Lain, as you may guess, was a little upset he missed this momentous occasion. However, we could not ignore the irony of it all, nor deny how easy it makes making fun of Lain.
Sample dialogue:
Lain: Oh my god, I can't believe I wasn't there. I feel so bad.
Amelia: Yeah, remember how you were telling everyone 80% of success is just showing up? When you were somewhere else? And how funny that is?
Lain: Good lord, yes. …I want to cry.
Amelia: Hilarious!
---
Written on November 14, 2007 at 6:05 pm, by Lain Shakespeare
Last year, the Georgia Trust released its Places in Peril list–a top 10 who's who of endangered historic sites in Georgia. The Wren's Nest made the cut.
Luckily, we aren't on the list again this year,* but The Castle is.
The Castle sits atop a huge retaining wall atop a hill on 15th Street in midtown Atlanta. It's flanked by a few skyscrapers and the Woodruff Arts Center.
The way land has been bought up in Midtown lately, it's a wonder this one is still standing. Once a house and later something of a community arts space, it now sits empty.
One obvious solution to ensure its survival would be to incorporate the house into the Arts Center across the street. Though I wouldn't blame anyone for using it as a personal residence either. Anyone who can cough up $4 million, that is.
Apparently the interiors of the home were inspired by Joel Chandler Harris. The fact sheet indicates that there's more than one Uncle Remus niche, and I've heard through the grapevine that there's some sort of Uncle Remus garden, too.
Who has the keys to this place? Anyone who happens to read this blog? I sure wouldn't mind taking a look around.
For more information, see: Georgia Trust, Places in Peril 2008
* The Wren's Nest was in danger of closing its doors in mid-2006 due to serious financial problems and uncontrolled debt. We've since been awarded some serious dough to fix up the house, and yesterday I came home from lunch to find a check for $37,000 sitting on my desk. Gulp. More on that tomorrow, most likely.