Archive for June, 2008
---
Written on June 30, 2008 at 10:32 am, by Lain Shakespeare
From the mailroom–
In 1931 the widow of Joel Chandler Harris sued Coca-Cola for infringing upon the Brer Rabbit "copyright."
Click the pictures for a better view.  Please pardon the cut-and-paste…the clippings came from someone's scrapbook and weren't easily scanned together.

Slow news day, maybe?
I wonder if Mrs. Harris was upset or short on cash.  Probably both, I suppose.
As you might expect, back in the day the success of the Brer Rabbit stories led many companies to to capitalize on the names "Uncle Remus" or "Brer Rabbit" or "Briar Patch."
Often, the spirit of the branding was, well, not terribly respectful:
Before someone sent me this news clipping, I hadn't heard of the Coca-Cola lawsuit.
Does anyone out there have any Brer Rabbit – Uncle Remus – Coca-Cola memorabilia?
---
Written on June 27, 2008 at 2:07 pm, by Amelia
A few minutes ago I answered the phone, and the caller asked if Lain was available. Typical fare.
Atypical: he also sounded exactly like my cousin, who periodically graces The Nest's telephone with his unique and sonorous voice.
So naturally my response was, "Unfortunately, you just missed Lain. (pause) Am I related to you?!?"
I am not very smart.
Unsurprisingly, it was not in fact my cousin, but instead a mildly confused and (thankfully) very understanding stranger.
Professionalism at its best, folks.
---
Written on June 26, 2008 at 12:08 pm, by Amelia
On July 19th, the Wren's Nest will be hosting a "Family Reunion", aka Centennial Celebration of 100 years of honoring Joel Chandler Harris.
(This is the least creepy way possible of saying we're having a party for the anniversary of Harris' death.)
Because this party is a Big Deal, we thought it would be best that more than 5 people attend.  So we sent out invitations.  Lots of 'em.  The image you see above is on the front of the invitation postcard; details and space for the address are on the back.
And then we started getting them back.  Lots of 'em.
They came back in bundles, all with the same label, telling us that no such address existed.  Thing is, the addresses were right.  We checked.  And then checked again. Even mine came back.  And you know what?  I'm proud to say that I can recognize my own address. I even have it memorized.
So today, sleuth that she is, Mama Shakes (also known as Annette, Lain's mom) went to the post office to demand an explanation… in the most polite terms possible, I'm sure.
Turns out the culprit is the location of our return address.  On some (but not all) of the invitations, the computer read this address as the "send to" address, sending them back to us in a jumble of confusion.
So I guess the point is, haven't received an invitation yet?  It's in the mail.
And!  I would be remiss not to point out that anyone who considers themselves part of the Wren's Nest "family" is invited to this event.  Regular blog readers, that means you! (Just be sure to rsvp to amelia@wrensnestonline.com!)
---
Written on June 25, 2008 at 10:41 am, by Lain Shakespeare
More often than not, our zip code is in the news for the wrong reasons.
This time around, we're featured in the AJC for our unusually high foreclosure rate.  30310 is offering up 26 homes for auction this evening.
Regarding potential buyers, the article quotes West End real estate blogger Nia Knowles—
"My fear is we're going to have the same issue we had before.  I don't want to be stuck with houses that aren't properly managed by some investor who just flew in."
If you live, say, outside of 30310 and read the papers, I wouldn't blame you if you thought that the state of affairs in West End was pretty grim.
After all, we've been plagued by mortgage fraud, more than most communities.  Last November one dude pleaded guilty to mortgage fraud charges that affected 80 different properties, most of them in West End.
Thing is, I really like working in this neighborhood.  The people here are great, and the houses (that haven't been foreclosed upon) are beautiful.  I walk from the Marta station most days.
And, significantly, there's a sense of community here that many neighborhoods will never have.
While it's a shame that bad press like this can fuel skewed perceptions, at least there's the potential for new neighbors to purchase an intown house for a steal.
Previously:
---
Written on June 24, 2008 at 11:22 am, by Lain Shakespeare
The couple that got married here at the Wren's Nest on Saturday night used one of the books from the museum as their guest book.
Fitting, no?
I especially like that Brer Fox weighed in on things.
---
Written on June 23, 2008 at 11:46 am, by Amelia
Did we mention that the 2008 Wren's Nest Publishing Co. has officially begun? Probably not, because it did so the day before Wren's Nest Fest, which erased 40% of my brain.
But! We're now in the swing of things, with 6 great student editors and three meetings under our collective belt, the most recent of which was a trip to Paste Magazine.
(Three of our Editors.)
Josh Jackson, the Editor-in-Chief, was kind enough to show us around and answer everyone's questions and generally be way more gracious than he needed to be.
We accidentally interrupted steadfast work in the Metaleap Design studio.
Somehow they were able to regain their composure in order to attend to our highly impatient group. Harumph!
Jose Reyes, Design Director, spent a good chunk of time generally being awesome and giving a side-by-side comparison of the magazine's relatively new layout versus the old.
It was super neat to go from being like, "I swear, Paste looks different this month!" to learning the specific objectives achieved by the change and why they were chosen.
In short, it was a great trip to a great magazine with a great and kind staff. As usual, we felt lucky to be people who know people.
So thanks to everyone at Paste for guaranteeing the Editors have at least one good thing to say about the program.
(More posts about the Wren's Nest Publishing Co. (both 2008 and 2007) here, here, here, and here. And here.)
---
Written on June 21, 2008 at 7:58 am, by Amelia
A guest to the museum left us a present yesterday.
A present of vomit.
We didn't realize we had received this gift until Lain was using the facilities and noticed an… odor.  Gross for sure, but not anything beyond our means.
(Ready to go into battle, though a tad teary.  We couldn't find plastic gloves and had to settle for freezer bags.)
That is, until we noticed our vent had been infiltrated.  Heavily.  Thus, in order for air to come into the bathroom, it had to pass through a wall of upchuck.  Sick.
(Hosing down the vomit-y air vent.  Barf.  As in, my reaction, not the description.)
And just when you thought we were getting glamorous.
---
Written on June 20, 2008 at 12:25 pm, by Lain Shakespeare
Today our soundtrack at the Wren's Nest is being provided by The Family Consort, a "jam band" that plays recorders.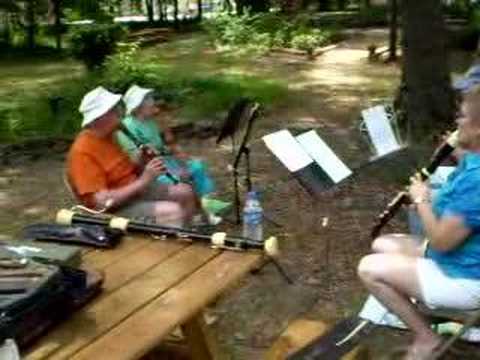 Just figured we'd keep you up to date on what's happening in our backyard.
They're in a wedding here tomorrow, and currently getting a feel for the venue.  You never know about backyard acoustics, I guess.
Also, please pardon the cinematography.  I'm just learning how to use the camera.
---
Written on June 19, 2008 at 10:44 am, by Amelia
On Tuesday night our fearless executive director was awarded the Atlanta Urban Design Commission Award of Excellence.
Specifically, it was the Jenny D. Thurston Memorial Award for an Outstanding Preservation Professional.
(Lain, his parents, a fleeing Mayor Shirley Franklin, and my inability to keep my eyes open in pictures)
Lain was honored alongside people and projects like the oft-profiled architects Brian Bell and David Yocum, the renovated old-timey train depot and current restaurant The Depot, and the firm that renovated Rockefeller Hall at Spelman College.  You can find the full list at the end of this article.
But Lain got the biggest award!  We're super proud, and Lain is super embarrassed when you mention it.  It's great.
Also great was the reception at the new Hilton Garden Inn, which boasted the sickest views of Atlanta I've ever seen.
(Wowee, right?)
Since the architect of the building was in attendance (not sure this makes it legit, but it helps), we got to go up to the helicopter pad and do our best to not fall off.
However, the absolute highlight of the night (that has nothing do with accomplishments) was courtesy of a woman in the elevator who asked, "Are you the baby who does Uncle Remus?"
When Lain confirmed, she incredulously (and loudly) recounted "I hear this long list of accomplishments, and then this BABY comes up to receive the award.  You're just a baby!!"
I laughed for about 4 minutes.
(Surprisingly young award recipient, awesome views)
Congratulations, you big baby.
---
Written on June 17, 2008 at 11:14 am, by Lain Shakespeare
Our article is four pages long.
I'm excited because it's probably the closest I'll ever get to My Morning Jacket, Jack White, or Al Green.
The article also features the toughest face I've ever made, in print or in person. Try not to be intimidated.
You can find Paste Magazine at your local music store. Or your local bookstore. Or, if you must, at any Barnes and Noble in North America.
You can even read our article online. Right now it's only available in the Paste Digital Edition (just type "56" near at top where it says "Cover"). Once Paste puts up our story so that it's easily linkable, I'll update this post with that very link.
Here's the article.  And here it is again if you prefer the digital edition of the magazine.  Thanks, commenter jmc.
So let us know what you think about the article. Feel free to comment on this post or even send a letter to the editor at Paste if you're feeling big time.