Archive for September, 2008
---
Written on September 29, 2008 at 6:12 pm, by Lain Shakespeare
Big Mike Geier and the rest of Kingsized played a heck of a show at the Wren's Nest on Saturday.
I'm still recovering.  But I did manage to post a few pictures of the party.  Check 'em out here.
Did you take any pictures?  Seriously, I'd love to see 'em since I was so busy running around all night. Just upload your pictures to the Wren's Nest Facebook Page.
Big thanks to our volunteers (Laura, Nicole, Greg and Christina, Lauren and Catherine, my mom, my sister), our staff, and the folks who had a great time, which was everyone.  Thank you, everyone.
---
Written on September 27, 2008 at 10:52 am, by Lain Shakespeare
Yesterday's Atlanta Journal-Constitution featured an article about Six Flags updating their darkwater ride, "Monster Plantation."
Come 2009, the ride will be known as "Monster Mansion."
Before Monster Plantation, however, there was "Tales from the Okefenokee."  The ride was based on Joel Chandler Harris' critter stories.  Here's what it looked like when it debuted in 1967–
I do not know what is up with the child is that explains the ride, but it did scare me the first time I heard it.
Six Flags updated the ride in 1968 to something much, much trippier–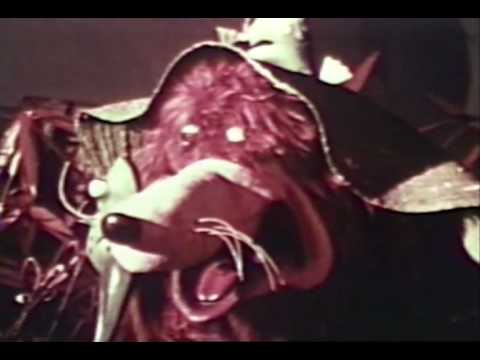 What just happened!?!
Of note:
1.  This article will give you more information than you ever needed about Tales from the Okefenokee.
2.  The first time I kissed a girl was on Monster Plantation.  I was 24.
3.  Since we've worked so hard to put on our concert fundraiser tonight, Amelia and I are skipping work on Tuesday to go to Six Flags.  We'll return with a full report, annotated and footnoted.
4.  No really, #2 is true.  Mostly.
---
Written on September 25, 2008 at 4:53 pm, by Lain Shakespeare
This tribute to Joel Chandler Harris aired on the television show "Disneyland" on January 18, 1956 to coincide with the theatrical re-release of Song of the South.  Walt Disney himself hosted the program.
The video concludes with the Song of the South version of "The Wonderful Tar-Baby Story" (37:45).
Items of note–
1.  Young Joel Chandler Harris is played by David Stollery, who went on to design the Toyota Celica A40 series in 1978.  Thank you, David.
2.  Joseph Addison Turner is depicted as Colonel Sanders himself.  In reality he was probably 35 or so when he hired Harris.
See what I mean?
3.  My apologies if this video gets taken down.  If I go to jail for posting this, please call my mom.
---
Written on September 24, 2008 at 2:22 pm, by Lain Shakespeare
Yesterday I stumbled across some Olympic propaganda from 1995 — a few boxes of bumper stickers and books suggesting that Brer Rabbit should be Atlanta's Olympic Mascot.
These were published well after the actual mascot was chosen.  Izzy (né WhatIzIt) was, let's say, not the most popular choice.
Here's the bumper sticker–
And the book–
To be fair, anything would have been better than Izzy.  Even I knew that as a nine year-old, and trust me — I was not a very bright nine year-old.
The book does make a pretty good case for Brer Rabbit–
"I mighta known you'd have a fit about the blue fuzzball," said Brer Buzzard.  "So have most of the rest of the folks.  But it seems like what happened is that, when it came to the pickin' of the mascot, the big guys in charge didn't do their homework."
"Don't they know that we come from a proud tradition?" Brer Rabbit said.  "Why, I can trace my own line back to Anansi and the great trickster heroes of Africa!  Brer Fox 'n Brer Bear 'n the other critters, they go 'way back too!  Why, there's trickster stories told about critters like us in just about every country in the world!"
"…don't they know that the ordinary folks around here are proud of us?  We kinda remind the people of Atlanta of themselves 'cause we've got the local sassy spirit 'n quick wits!  Whoever it was that decided to choose that blue thing, it was folks that don't event know us!"

"They thought they knew who you were," said Brer Buzzard.  "They thought you and the other critters were stereotypes."

"Whaddya mean stereotypes?" said Brer Rabbit.  "We come from the real history of Atlanta.  What's that dumb lookin' blue gizmo got for a history?"
Not much!  Though given the reputation of the Atlanta Games, Izzy was perhaps the most appropriate mascot.
The final image in the book is particularly inspiring–

We're totally going to start selling the book and the bumper sticker in the gift shop.  Believe it or not, the campaign for nothing left us with a few extras.
---
Written on September 23, 2008 at 11:44 am, by Amelia
This weekend Lain and I attended one of the most fun, creative, and altruistic birthday parties ever.  For a nine-year-old we had never met.  Would you like some background?
Several weeks ago, Lain and I received the following email:
Lain and Amelia,

My name is Jeff, long-time blog reader, first time writer, as well as 19th century folk-tale enthusiast (who isn't?) and fan of house museums.  I write to you with a proposal/request/announcement/heads-up.  My 8, soon to be 9 year-old daughter Matilda has for the last several years hosted birthday parties at our home in which, instead of children bringing gifts for her, she raised money for some worthy cause.  A car wash for the Humane Society at age 5, hit the dads with pies in the face for the Red Cross and Katrina Victims at age 6, a backyard Hawaiian fair for bookshelves for her school at age 7, and last year's American Shoe-Kicking Association (ASKA) National Championships for the Red Cross.  I'm proud and a little nonplussed to write that this was her own initiative, though I'm sure taken from some TV show.

I write you now to let you know that this year you are on the docket as planned beneficiaries of the first (and perhaps last) Iverson Park Literary Festival!  Mathilda visited the Wren's Nest with her class this past year and was impressed by he experience and wants to join in the fun.  Possible events include a short-story telling contest and for those less inclined to prose, a book throwing contest.
Within about two minutes we told Jeff we were in.  Playing it cool is not our strong suit.
The Iverson Park Literary Festival wildly exceeded any expectations we could have had.  I mean, they had tote bags.  And a mascot!
(Haiku the bookworm)
There was a lot of literary fun going on.  You could guess the number of pages in the book.
(Waiting has never been so exciting!)
You could throw books at William Shakespeare, Louisa May Alcott, or Edgar Allen Poe.
(This activity made Lain nervous thanks to the children shouting "KILL SHAKESPEARE!")
You could even tell your own story.  Curtis warmed up the crowd, and then the kids competed to see who was the best storyteller.  Lain and I served as Celebrity Judges.
Unfortunately, we did not get any pictures of the amateur storytellers, as we took our judging jobs VERY seriously.
Jeff, author of the above email, played the part of our host — Dr. Armstrong, PhD, MA, RN, NASA, from Valdosta State Technical Community College and State University A & M.
We even wore our most literary duds.  A Kenyon shirt and tweed for Lain, and my "I'm a Bibliophile" shirt from age 5 for me.  Still "fits"!
Curtis played it cool, as always.
We especially felt at home because some of the kids tried to bribe the Celebrity Judges by wearing their Wren's Nest t-shirts.
The children really wailed on the authors.  So much so that they broke and had to be fixed with a nail gun.
We would have left the nail gun by the snacks, too.
By the end of the Festival we had totally forgotten about how we benefited monetarily, being too busy making exclamations like "This is the best thing ever!" and "I love tote bags!" and "Too bad I will never produce a child as awesome as Matilda."
So thanks to Jeff, Marisa, Matilda, and everyone at the first (and possibly last) Iverson Park Literary Festival.  Did we mention we had a great time?
---
Written on September 19, 2008 at 11:55 am, by Lain Shakespeare
Thirty years ago, the Center for Puppetry Arts opened its doors and became the first puppetry center in the United States.  Brer Rabbit and Friends was the very first show.
This month the Center is celebrating their 30th season with — you guessed it — Brer Rabbit and Friends.  Pretty neat.
We invited the puppeteers over for a photo shoot at the Wren's Nest to promote the show.  It opens September 30th.  You should go.
Note the Wren's Nest admission sign from circa 1938: Adults, 26¢ and Children, 10¢.
Was a quarter not enough?  Two bits weren't going to get the job done?  Greedy.
It's cool that the puppeteers chose to take pictures on this part of the porch.
Joel Chandler Harris penned many of the Brer Rabbit stories in the exact same spot.
Close enough.
Since I'm on a deal making kick — if you see Brer Rabbit and Friends at the Center for Puppetry Arts, hang on to your ticket stub, bring it to the Wren's Nest, and get a tour of the house for a mere 26¢ one dollar.
For tickets, check out Brer Rabbit and Friends at the Center for Puppetry Arts.
---
Written on September 18, 2008 at 2:04 pm, by Lain Shakespeare
By now you might have noticed that Kingsized is playing our fundraiser here on September 27th.
That's less than 10 days away.  I'm a little worried.
Don't get me wrong — the show will be phenomenal, the tacos will be delicious, and the margaritas will have tequila.  I'm mostly worried that folks might miss out on a great time.
We've got a lot to compete with — class reunions, out-of-town plans, laziness, stock market induced excuses, hatred of fun and margaritas — you name it.
And in typical Wren's Nest fashion, we were late spreading the word.  The price we pay?  Restrained panic.
We're looking to you, dear Wren's Nest blog readers, to help us out.  And boy howdy, have I got some incentive–
Inspire nine folks to come to the concert with you, and drinks for your entire table are on me.
You heard me.
Honestly, I don't think anyone will take me up on this offer.  I'm sure you're either too busy or it's too expensive or you don't have time to rally your crew.  I will be shocked if you can pull this together.
So prove me wrong.
Free drinks for you and your buddies all night, but only if you (1) are at least 21; (2) mention this blog post; (3) assemble your crew of 9 or more; (4) pay for your tickets in full; and (5) tell me about it before 4 pm on September 22nd (lain@wrensnestonline.com).
Please, test my generosity.
---
Written on September 15, 2008 at 7:31 am, by Amelia
Yesterday, the staff of the Wren's Nest was were was nobodies. But today, we're nobodies with slightly more internet exposure!
You see, someone chose US to be their nameless vision of awkwardness! Have you ever been so elated?! First, the famous awkward picture:
Next, the use of said picture ON A BLOG ABOUT HIP HOP. Go on. Check it out. The hip hop community loves us. It's about time we gave back.
I hope you realize I am not kidding about my excitement. Seriously, I could not have asked for a better home for my image. This is rich.
Now, if you'll excuse me, I need to go back to being thrilled and twirling in circles. Yippee! Famous! Kinda!
---
Written on September 12, 2008 at 1:40 pm, by Amelia
As we've mentioned many times previously (1,2), the Wren's Nest basement is a wonderland of mystery.
Sure, there are useful things down there, even historic things.  Problem is, it is mighty hard to find and identify these worthwhile items among the mountains and valleys of garbage and treachery.
So we decided to get 'em out of there.
Our unwanted items will be seeking temporary residence in this POD, the likes of which I am noticing everywhere now that I know they exist.  I love it when that happens.
Anyhow, with our Board Chair Marshall at the helm and several community service workers doing the dirty (well, dusty) work, we have managed to open up gateways to parts of the basement previously unreachable.
Clearing out all the junk revealed a filled-in fireplace.  Neat.
But, if I know anything about our basement–and I think I do–this fireplace probably leads to unseen realms or something terrifying like that.  Nannie doesn't refuse to go down there for nothing.
Speaking of terrifying, all of this de-cluttering has really shined a light on our DIY foundations.
This legitimately may be holding me up right now.  We're about to enact a museum-wide No Jumping rule.
Here's the bottom.  Notice the brick-thingy-as-anchor.   I feel so safe right now.
This is just the tip of the iceberg; the potential for unfathomable depths of garbage is very, very high.
We'll be sure to keep you up to date on our findings.
---
Written on September 10, 2008 at 1:58 pm, by Amelia
I don't know if you heard, but Lain and I write a blog.  Some people even like it.
And lucky for us, some of the people who like it started a new website called Regator, which basically collects awesomeness from the whole wide internet and then says, "Hey!  Read this why dontcha!"*
(Photo courtesy of ohsnapkid.com.  More photos from the event here!)
That's Lain and me with Regator's mascot, Reg (note: Lain and I both minored in posing).  Regator hosted a launch party at Paste Magazine offices in Decatur and invited bloggers who they like.  That's my understanding, anyhow.
In truth, all I know is they sent the invite to Lain for the both of us, but then only my nametag was printed.  Success!
The night was full of awkward introductions (example: "I read your blog all the time and just think you're the coolest… err, I mean, nice to meet you!) and open bar advantage-taking, so everything pretty much evened out.
Awkward adoration aside, it really was neat to meet the faces behind the words.  The Asian Cajuns were delightful as always, About Town's Elizabeth is a real live nice person, and the ladies from Dad's Garage and Out of Hand theater were a treat.  Though you might know them from their "work" at "Google."
Thanks to the Regator team for hosting this delightful soiree, and hi to everyone we met!  Sorry I don't remember your names!  Free drinks!
* Lain adds, "Regator is like Google Reader meets Digg, and their baby is adorable, quick, and easy to use.  If you're into that sort of thing."