Archive for January, 2010
---
Written on January 30, 2010 at 10:52 am, by Lain Shakespeare
Last week's episode of 30 Rock boasted this interaction between Tracy Jordan and a John Hancock reenactor interpreter guy:
We get a lot of this at the Wren's Nest, especially on the phone — criticism of Joel Chandler Harris that's (usually) more of an indictment of 19th Century culture. Sometimes, if we're lucky, there's a little bit of crazy sprinkled in for good measure.
Or, if we're super-lucky, it's all crazy all the time.
---
Written on January 29, 2010 at 12:16 pm, by Amelia
Here's a quandary for you:
A woman calls to ask questions about visiting your museum.  She's surprised her friends want to visit, given all the controversy surrounding the place, but is intrigued by their interest.  She's on board, seemingly, but hesitant.
With me so far?  Sounds pretty typical if the museum in question is the Wren's Nest, which would be a fair assumption.  Onwards!
The woman, as your conversation continues, is very, very up-front about the fact that she doesn't like the person your museum honors.  In fact, she seems to, uh, hate him.  Still, she appears to like the idea of coming in to have a verbal throwdown, if nothing else.
Someone has an ill opinion of Joel Chandler Harris… or, uh, someone else?!  Wouldn't be the first time.
As she goes on, it becomes clear that the things she hates about this historical figure are, you know, completely false.  It's obvious why she would hate this guy, based on the history she knows, but it's completely misinformed.  And she is SURE of its validity.
Do you correct her?  Or do you do what it takes to encourage her to come to the house of someone she hates, but on false pretenses?
I have a lot of respect for Joel Chandler Harris and like to defend him.  Usually, the easiest way to do that is to give accurate information. "No, Joel Chandler Harris didn't write Song of the South — he had been dead for 38 years," and so on.
But her claims were so out of left field that there would have been no defending.  Examples:
 It would have just been me telling this woman, as nicely as possible, that she was completely wrong.
I want her to come to the museum, not only because we like visitors and the entrance fees they pay (let's call it like it is, folks), but because the legacy of Joel Chandler Harris is an important one.  We take the educational component of our mission for, like, serious.
So what do you do?  Throw JCH under the bus to get someone in the door, assuming the tour will set them straight?  Or correct them immediately, knowing they may be so put off by your perceived "attitude" that it justifies their stance?
Go on, I'm listening.
---
Written on January 28, 2010 at 3:55 pm, by Lain Shakespeare
These illustrations of the Uncle Remus Golden Book are a delight.  Thank you, International Animated Film Society.
It's a Disney book, but instead of having 3 stories like Song of the South, it's got twelve.
Coincidentally, this particular illustration reminds me of Fantastic Mr. Fox too.   Oh!  And look: compare this picture from Disney to this one from Sid and Marty Krofft(!).
---
Written on January 27, 2010 at 12:15 pm, by Amelia
This may come as a shock to you, but the Wren's Nest is more than a National Historic Landmark celebrating literature, folklore, and African American history.  It is also an old house.
A surprising (to me, I guess) number of visitors come here just as eager to discuss 100-year-old window panes as they do the work of Joel Chandler Harris.  Living in an old house is a unifying factor, I tell you what, and Lain and I are in the know.  (Let me just say that space heaters become really, really important.)
Which is why we're so excited about the second annual Decatur Old House Fair on March 6th.  The fair brings together experts in repair and maintenance, design, energy efficiency and historic research with owners of old houses and the likes of you and me.
Last year's fair — with the awesome tagline "The Greenest House is the One Already Built" — yielded our relationship with Tom Bretherton, who ended up installing our windows during our restoration.
In fact, Lain had such a great time he's now on the 2010 volunteer committee.  If joining a committee isn't a sign of love, I don't know what is.
Added bonus: one of our Board members, Ken Thomas, is co-leading the "Researching Your Old House and What Style is My House?" seminar.  Yay Ken!
Hope to see you there!
---
Written on January 19, 2010 at 2:07 pm, by Amelia
If you're like our fearless docent Miss Nannie and make a point to read the obituaries every day (a fun-loving group, y'all are), you may have had a Wren's Nest-related shock on Thursday:
Nannie showed us this today with the intro, "Imagine my surprise when I saw I had died!"  For the record, this made me feel really, really weird.
To the family of (not our) Nannie Thompson, please accept our condolences.
This bizarre coincidence inspired (our) Nannie Thompson to kick what was ailing her to the curb, though I think we can all agree that perhaps she should take cues from subtler sources.
Welcome back, Miss Nannie.
---
Written on January 18, 2010 at 3:47 pm, by Lain Shakespeare
T.S. Eliot and Ezra Pound were friends.  Not only were they were friends, they were pen pals.
Weirdly enough, they corresponded via letters written in African-American dialect inspired by the Uncle Remus stories.  Eliot (below, left) was given the nickname "Old Possum" by Pound, who referred to himself as "Brer Rabbit."
The nicknames were no mistake — Pound viewed himself as a brash risk-taker, while he considered Eliot's reserve to be quietly subversive. True to form, Eliot even signed one of his letters "Tar Baby" (as in the story where the "Tar-Baby ain't sayin' nothin'").
Both had grown up when the Uncle Remus stories were ubiquitous and ridiculously popular, and both relished in the rebellious language that defied the Queen's English. For example, here's a poem within a letter from Pound —
Sez the Maltese dawg to the Siam cat
'Whaaar'z ole Parson Possum at?'
Sez the Siam cat to the Maltese dawg
'Dahr he sets lak a bump-onna-log.'
Their correspondence eventually became an intricate inside joke that signaled their collaboration against the London literary establishment.  Here's another poem-within-a-letter from Pound —
Pound's famous slogan — "Make it new!" — couldn't be more apt here. By appropriating the old language from the literature of their youth, Eliot and Pound considered themselves to be at the forefront of poetic ingenuity.
Eliot's "Old Possum" nickname became common knowledge in literary circles, and he even published Old Possum's Book of Practical Cats in 1939.  Yes, it's the very same book that Andrew Lloyd Webber would adapt into the musical theatre atrocity, Cats.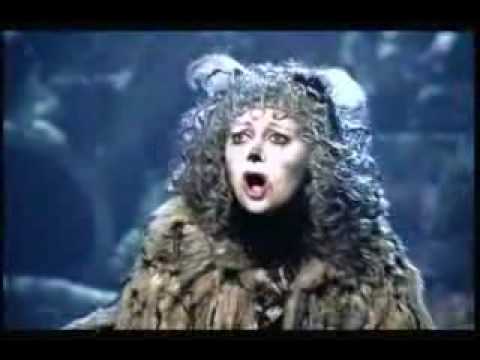 (Please do not blame Joel Chandler Harris for Cats.  Instead, thank him for The Office or Mark Twain.)
I love how Eliot and Pound wrote from the context of the literature of their youth.  The old vernacular inspired their experimentation with language (not unlike Joel Chandler Harris recording the stories of the plantation!), and also allowed them to mock the old fuddy-duddies creating bland poetry.
It'd sort of be like if Amelia and I started writing our blog posts from the perspective of the Berenstain Bears because Pecanne Log wasn't edgy enough.  Sort of.
For more on the dialect of Eliot and Pound, check out Michael North's book The Dialect of Modernism.
---
Written on January 13, 2010 at 9:21 am, by Amelia
This may be the one Top Ten list we're happy not to be included on.
The Georgia Trust has released their 2010 "Places in Peril" list and, unlike 2007's list, the Wren's Nest was not included.  Phew!  In fact, we were even mentioned as a success story.  (See paragraph fifteen of the AJC's great article to be inspired.)
The list details historic sites in Georgia, from a still operating hospital (Central State Hospital in Milledgeville) to an archeological site (the Leake Archeological Site in Bartow County) that need attention, funding, and general help to stay afloat or, in many cases, existent.
The list can be a tremendous boon to the sites listed on it, though inclusion doesn't guarantee results.  It does, however, ensure attention and awareness, also known as "half the battle" (though I might push it to about 75% of the battle).
The list features two Atlanta locations, Morris Brown College and Herndon Plaza (pictured above), both of which are manifestations of African-American success in post-civil war Atlanta.  We wrote about the Herndon Home's troubles recently, and Morris Brown has had no shortage of local coverage of late.  Still, I hope the Places in Peril list is the boost they both need.
Not to poo-poo our Atlanta brethren, but I am completely intrigued by two other places on this list.  First, you have Capricorn Recording Studios in Macon, who we have to thank for introducing the Allman Brothers to folks outside of Macon.  Southern rock aficionados, I leave this one to you.
My real favorite is The Old Dodge County Jail, mostly because looks like it was lifted directly out of Mayberry. The only difference I can gather, other than one being fictional and all,  is the fact that the Old Dodge County Jail features a quaint "hanging room."  If the Mayberry jail had one, let me be the first to say that it was totally underutilized on the show.
Being featured on the 2007 Places in Peril list made a huge difference to the Wren's Nest in 2006, and I hope it has a similar effect on these worthy sites.
---
Written on January 12, 2010 at 12:26 pm, by Lain Shakespeare
In 1954, General Mills debuted Trix Cereal.  The copy of one of the original advertisements is delightfully hyperbolic:
"Trix… world's first breakfast cereal with wholesome fruit-flavor sweetness… and bright fruit-colors! Gay little sugared corn puffs in a happy mixture of colors – red, yellow and orange. Fun to see! A joy to eat! A real honest-to-goodness body-building breakfast-food besides! No sugar needed! Just pour on milk or cream and it's ready to eat. The most exciting thing that ever happened to breakfast cereal. The most wonderful thing that ever happened to breakfast! A terrific between-meals snack, too… and wholesome. At your grocer's now! Get Trix… the fruit-flavor c ereal!"
That same year, Brer Rabbit appeared on one of the earliest Trix boxes, pictured above.
Like other Disney characters, Brer Rabbit was often used in advertising partnerships with General Mills (Mickey Mouse, for example, made his way onto the Trix box, too).  Brer Rabbit had also promoted Song of the South on a Cheerios box in 1946:
For the next few years, General Mills experimented with the Trix brand, occasionally adorning the box with, say,  a different rabbit or a juggling kid on a unicycle, but nothing stuck.
Then, in August of 1959 illustrator Joe Harris (no relation) created Trix Rabbit, the cartoon rabbit who would fail miserably in tricking children out of their cereal.
Here's an early commercial featuring Trix:
The rest is history.
Joe Harris went on to bigger and better endeavors (most notably, creating Underdog), but "Trix are for kids" became one of the most recognized corporate slogans of the 20th century, and the Trix Rabbit is still alive and kicking fifty years later.
Until recently, I'd thought that the Trix Rabbit was perhaps a subtle nod to Brer Rabbit, mostly because he's a rabbit classified as a "trickster hero."  But the connection seems to be much more overt.
First of all, Brer Rabbit was one of the few characters that'd actually appeared on a Trix box before. A trickster promoting Trix cereal wasn't lost on General Mills.
Then, of all the names in the world, Trix Rabbit's illustrator was named Joe Harris — the very same name that Joel Chandler Harris went by everywhere except the book jacket.
Perhaps this nod to Brer Rabbit was a little bit more obvious in the 1950s, when (Joel Chandler) Harris' name enjoyed considerably greater renown.  Given the time period and the circumstances, Joe Harris creating Trix Rabbit is sort of like me naming my kid "Billy Shakespeare."  If it happened, it sure wouldn't be by accident.*
Sometimes when I'm talking to guests and trying to explain the significance of Brer Rabbit in American culture, I feel like the copy on the original Trix ad: "The most exciting thing that ever happened to breakfast cereal children's literature!  The most wonderful thing that ever happened to breakfast American folklore!"
Or worse, like Carlton on the Fresh Prince of Bel-Air bemoaning the unjust treatement of his favorite rabbit :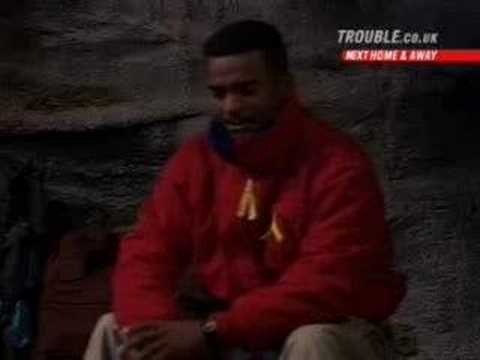 But in truth, the echoes of Brer Rabbit and African-American folklore really do resonate throughout more than just our Saturday morning cartoons — they're in our cereal bowls, too.  That is, if you're six.
* Please do not let me do this.
---
Written on January 11, 2010 at 11:24 am, by Lain Shakespeare
These illustrations of Brer Rabbit and his critter friends were created by Sid and Marty Krofft and used to pitch Six Flags Over Georgia for the Okefenokee Swamp Dark Ride.
The gallery says the illustrations are from 1969, but I believe the ride debuted earlier than that.   In fact, we have these creepy videos to prove it.
---
Written on January 8, 2010 at 2:58 pm, by Amelia
No white after Labor Day my heinie.
For the record, we ain't afraid of snow.  The house will be open for tours tomorrow starting at 10, and Curtis will be telling Br'er Rabbit stories at 1.